Browse our selection of old black and white photographs of Tillingham, along with a selection of historic maps, local history books, and fascinating memories that our visitors have contributed. All our photos and maps are available to buy in a wide range of product formats, including framed prints, canvas prints, tea towels, mugs, jigsaws, tableware, cushion covers and as one photo in a customised calendar. Most of our local history books can have a personalised inscription added for FREE to the title page.
Historic Maps of Tillingham and the local area.

My memories are a little vague but my family come from Tillingham. The family name is Hammond and my great-great-grandfather had a blacksmith's shop there in the High Street, it was there untill fifteen years ago but has now been redeveloped. I have many personal photos of my family but would be interested in anybody who had more photos or memories to share of this wonderful Essex village.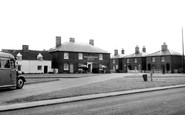 I remember helping my father Alan to herd the sheep from Marsh House Farm to West Hyde Farm. When we got to Tillingham Square we rested them and  the villagers used to come out to see us. I used to sing in the church choir and I used to attend the primary school, I was in Miss Rodda's class. When the Bradwell (...Read full memory)