Historic Maps of Turvey and the local area.

Read and share your memories of Turvey itself or of a particular photo of Turvey.
I remember fishing for endless hours just about the spot shown in the photograph. There were many perch there and on one occasion I caught a fair sized pike. Just upstream from this location was a sort of peninsular accessed by climbing down steps set in the wall of Turvey Bridge. This was called Sam's Island for some reason. Brings back many happy memories of over half a century ago!!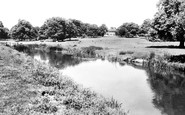 Turvey Abbey was owned in those days by Rupert Allen who owned an engineering factory in Bedford. My father was employed on the estate as gardener/general factotum (and was paid a pittance for the privilege). The Abbey had a few cows, pigs, geese and chickens. It was often my job to go out at dusk to shut up (...Read full memory)