Historic Maps of Walcott and the local area.

ref W400054. This photograph shows a Vauxhall Viva. I think this photo is dated between 1967-70, probably nearer 67 as the caravan seen centre left is my grandfather's and that partiucler van, a Marston, was not bought until 1967. The PO was run by Mr & Mrs Murphy. I spent most summer weekends and annual holidays at Walcott from 1957 to 1970.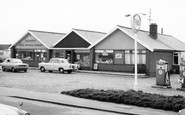 The old showman's type caravan at the back of the field was owned by a Mr Palmer and was still on the site in 1970 when we left (the site was being sold). Mr Palmer had a small dinghy in which he used to go fishing out to sea, having launched from the beach with Mr Bishop from another van on the site. The boat could have been Bishop's, I'm not sure.