Historic Maps of Westbourne and the local area.

I lived in 2 Oak Villas as a child from 1960-1966 then my last name was Burge....I now live in the USA and would like to hear from anybody who lived at Common Side the same time as me. My grandmother who now has passed was Agnes Helyer then was widowed then remarried and took the last name Whitcombe she lived in (...Read full memory)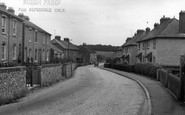 I lived in one of two top flats in the big house at Chantry Farm then owned by Mr Tombs. I was in the RAF at Thorney Island then, and moved to Raf Wildenrath , Germany in 1965. Happy memories of the village.