Historic Maps of Weybridge and the local area.

I lived at Monument Green, Weybridge until 1948. During that time Eyot House was occupied by Lord and Lady May (of Bryant and May Matches). There was no bridge in those days, you had to ring a bell and a man brought a boat over to collect visitors. We used to go late at night to watch all the "posh" people arriving to house (...Read full memory)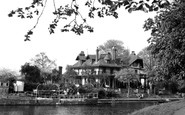 I remember seeing John Lennon and some of the other Beatles coming to pick up Julian Lennon from school. I was at Heath House School from 1961 until 1965, I'd love to catch up with some of the people that I was at school with then, or even see some pictures of Heath House, I remember the old 1920's cars that we were allowed to play in, and the old swimming pool, which seemed so big then.