Historic Maps of Weybridge and the local area.

I had a boy in my class at school who lived in this house. It always seemed very mysterious to me. Leslie Hoy, I wonder where you are now. We also used to swim regularly at the New Bridge a couple of hundred yards up from Eyot House. I remember the island the house is built on had a bridge connecting it to the tow path. It had a gate and you had to have a key to gain access to Eyot House.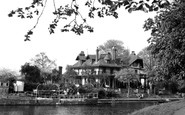 I remember seeing John Lennon and some of the other Beatles coming to pick up Julian Lennon from school. I was at Heath House School from 1961 until 1965, I'd love to catch up with some of the people that I was at school with then, or even see some pictures of Heath House, I remember the old 1920's cars that we were allowed to play in, and the old swimming pool, which seemed so big then.