Willesden Memories
Read and share memories of Willesden
when I was around five years old my family moved into the ground floor of a Victorian house in Mayo Road Willesden, This was around 1968. Mr & Mrs Cooper had the top of the house and at that time they seemed very old to me, I didn't see much of Mr Cooper but Mrs Cooper was always home and she was very nice. I didn't (...Read full memory)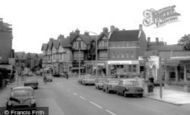 I have fond memories of living in Willesden where I spent the first five years of my life until leaving London during the war years (1939 - 46). I remember in August 1939, dressed in grey shorts, school blazer and tie, being introduced to the headmistress of a kindergarten on Chamberlyne Road, but a week (...Read full memory)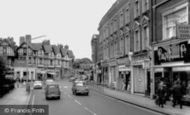 Convent of Jesus and Mary.
We moved to 30 Dean Road in 1948 and I went to St Andrews school then onto Dudden Hill Secondry Modern School. Our flat had a side entrance which came out onto Grove Road. We also used to play out in the road with my 2 brothers Ron and Colin. I joined the Boys Brigade at Huddlestone Road then later I joined the 1906 Squadron (...Read full memory)
I went to St Marys School and lived in Beckette Yard, Woodbine Cottage. Yes, we went to church at St Marys. At school Mr Sercombe was the head. I also played in their football team and we were the first team to ever win the league for the school. The infant school was in Pound Lane and I used to take letters for the (...Read full memory)
Hi, my name is Liz Ely (maiden name O'Connell) and I was born in Melrose Ave, Willesden Green in 1953 and I still live in the same house. I remember doing my mother's shopping in Sainsburys in Willesden and going across the road to the Co-op. My mum would give my brother Tim and I £5.00 to (...Read full memory)
Hi I was born in Melrose ave, willesden green London nw2, and I'm still living here. One of my first times I remember is Sainsbury which took over 2 shop. The co-op was across the road and Fredrick Reed toyshop. My auntie was always treating my brother. I also remember the outdoor swimming pool in Gladstone park. Those were great days.
Hello Willesden Kids, I was born in Willesden, Dean Rd. in 1947. grew up there until I was about 12 -14. I remember the Davis family across the road, (particularly Janet Davis - I was sweet on her, my first love, ha ha), and my mates named Alan Shaw and Rodger Wright, who lived in Grove Road; we were good friends then. We all (...Read full memory)
Is there any one out there who went to Mora Road school from 1947 till leaving at 15yrs? My best friends were Betty McNought, Ann Grant and Susan Grant. Does any one remember them, as it would be great to catch up with them. I had a great childhood in and around Cricklewood. I remember the skating ring and the cinema, (...Read full memory)