Woodbridge, Suffolk

Browse our selection of old black and white photographs of Woodbridge, along with a selection of historic maps, local history books, and fascinating memories that our visitors have contributed. All our photos and maps are available to buy in a wide range of product formats, including framed prints, canvas prints, tea towels, mugs, jigsaws, tableware, cushion covers and as one photo in a customised calendar. Most of our local history books can have a personalised inscription added for FREE to the title page.
Historic Maps of Woodbridge and the local area.

I was married in the Easter of 1969, and the reception was held at the Melton Grange. What a superb place, with its beautiful gardens where many photographs were taken, which I still treasure today. The splendour of the Grange certainly added the finishing touches for a perfect day. Such a shame that it no longer exists.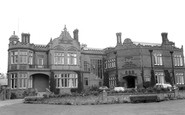 1970s I worked here while in high school, I started at age 15! They use to hold dinner dances, every Friday and Saturday night, for about 300 hundred guests all staffed by the local youth. After I finished school, I went on to work full time as a waitress, I also was a chamber maid for a while. So sad that it is no longer there!