Historic Maps of Woolston and the local area.

My Grandparents lived in Oakbank Road, My Aunt lived in Laurel Road. I can remember going to work with my Nan in the evenings. She used to be a cleaner for Knaptons Bookies and Malizias Bookies (Bridge Road). My Aunt worked at the Home & Colonial along Victoria Road, my Grandfather, Uncle & Brother worked in (...Read full memory)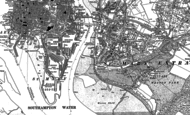 Does anyone have any pictures or information relating to Hilton House set in Westwoods? It's demolished now. The story goes... an old lady lived there and the house was pulled down 1935 (ish); Watneys aquired the site but due to a planed one-way system sold it to a developer who failed to get planning. I seek to find images and information please. Kind regards.