Worsley, Greater Manchester
Historic Maps of Worsley and the local area.

My sister and I grew up in Worsley,we went to Worsley High School in the fifties we cannot find any evidence of it's existence,we know a Fire burnt the beautiful house down in the sixties and a modern building replaced it,later it became a nursery school called by it's original name The Crow's Nest.Does any one have any (...Read full memory)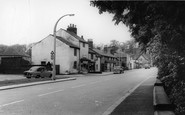 Oh yes, I remember the cafe well. Used to come down the brow from St. Marks at lunchtime to get sherbert dips etc. The counter was high and I could only just see over the top. Also, sometimes after Sunday School at the local Methodist Church would walk home via the cafe - get an ice cream and then walk through Worsley Woods or up the main Walkden Road to home. Fond memories.