Historic Maps of Wrotham and the local area.

In doing family history research I discovered my Grandfather, George Crowhurst, was born and grew up in this beautiful home from 1895 til 1920. His father, Isaac, leased the house and the land to farm. They lived on the farm until Isaac's passing at which time George's mother took the remaining family to live at (...Read full memory)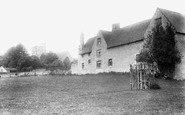 I started Wrotham Primary School in 1956 and I lived at Green Leach Cottage, along the Pilgrims Way. I was friendly with Melita Pointon from Fairseat, Myra, Maxine, the twins Julie and Jane, Andrea, just to mention a few. I believe the last 5 people lived in the old prefab houses. My Mum Marjorie Dodson was Brown Owl. Does anyone else remember those days?