Yeovil Memories
Read and share memories of Yeovil
I was one of 5 typists on the 2nd floor of Lloyds Bank n our window would overlook the War Memorial n down the High Street between the Midland Bank and Boots which in the 70's had a clock on but the time couldn't be relied on but there was another on H Samuels which was more accurate. We'd get the fumes from the buses wafting in. A great place to work.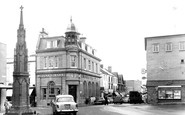 My mum (Gloria Hawkins) was born in Yeovil in 1942 in an upstairs bedroom of 99 Westfield Grove. She left in 1960 to work at a holiday camp where she met my dad who was from London. They married and settled in West London where they went on to have 4 children. During the school holidays my mum would pack me and my younger (...Read full memory)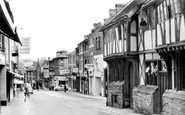 This photograph must have been taken after 28th. October 1896, when the new reredos, altar, and choir screen shown here were installed to celebrate the Golden Jubilee of the church, and were dedicated on that day, and the summer of 1897, when additional wrought iron screens were inserted across the side chapels, to celebrate the (...Read full memory)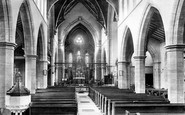 This photo shows the road junction (left behind the car) leading to East Coker village. From 1960 onward I served my apprenticeship with FW Saunders the Rootes Group dealers in Reckleford. About this time Recklesford was widened all the way up the hill to the hospital and the delightful little Bide's Garden covered in (...Read full memory)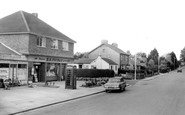 I use to attend St Gildas Convent and well remember getting off the bus and walking through Bide`s gardens to school; we used to collect the conkers in the Autumn. My neighbour was in the old hospital and I remember seeing him walking in the grounds at the front and went over to speak to him as there were only some metal railings separating the grounds from Bide`s gardens.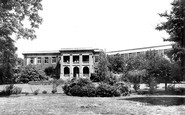 I was born on 15th August 1954 at Balidon. I am sure my father told me they had a fishpond as you came into the driveway at the front of the building. When he first came to see me, he went to open the door of a car he must have borrowed, when he caught the sleeve of his jacket and the horn went off and Matron came out (...Read full memory)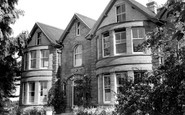 II was born in this gorgeous building on July 10th 1966. This is the first time I have seen a picture of it and what a grand building, so sad to see the current state of it. My dad was in the army and stationed at Bovington. We moved to Newcastle Upon Tyne when I was one year old as my dad left the forces and found a job up (...Read full memory)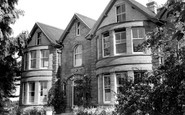 I always remember my late mother, Elsie Buttle, telling me when I was born 24/08/1944 there were some, I believe it was Italian soliders, out side singing the hymn "Jerusuleam". Also, my first son, Terry Buttle, was born here august 1966. There used to be a sister in charge, Sister Gough, who used to have a (...Read full memory)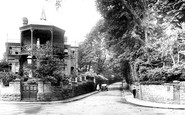 Does anyone remember the fur shop in Peter Street owned by a Mr Jack Berry? He was a furrier and made coats, hats, gloves etc! He was Jewish and used to drink in the Mermaid. The shop is long gone, sadly, as are lots of Yeovil's shops! Perhaps this will jog someone's memory, I hope so. Looking forward to any memories. Many thanks Janet x
Happy memories of my first born in January 1952. He celebrates his 61st birthday today and this will be the first time he has seen where he was born. The weather then was very much like it is today, snowing.!! I spent two weeks here and my Doctor was Dr. Finian Stack and lived in Somerton. My husband (...Read full memory)