Abbots Ripton, Cambridgeshire
Historic Maps of Abbots Ripton and the local area.

I was 5 and my dad was sent to Abbots Ripton to be the local policeman. We lived in the policehouse down Moat Lane next door to Mrs Bielby and I was friendly with Julie Stewart who had 4 sisters and 1 brother. We had great times climbing trees and going on picnics. We were also the first pupils in the new school!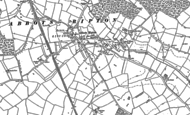 My father, Gerald Blockley, originally from Derby, had just completed a degree in History from Unversity College, London and was appointed to teach at Bruce Grove School in Tottenham in 1939. He was evacuated with a lot of the children to Abbots Ripton in the autumn of 1939. He managed to find lodgings (...Read full memory)