Amble Memories
Read and share memories of Amble
My memory of Mrs Lungren is very cear as she was my dads sister making her my Aunt Memories of Alf are still with My second cousin young Eddie and myself collecting timber from swarland saw mill when a German aircraft straff Amble we did?nt Know what was happing till saw the A.R.P.at the top of the Wynd David Beaty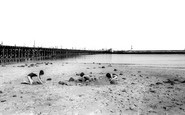 It is only in the past two years that I have discovered Amble. My daughter and son in law have made this little town their home and I was able to visit from Australia twice in two years. I really love the place. Many of my ancestors lived in the surrounding area, so perhaps that is a good enough reason for feeling at home there.
May Lundgren was my grandmother, married to Alfred Edward (old Ed), who was in the Air Force during the war. My father is also Alfred Edward (young Eddie), born 1931 who now lives in Alnwick with my mother Irene, formerly Walker, from East Chevington. I was born in Gordon Street in 1955, just next to the beach photo (...Read full memory)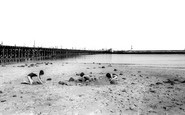 I remember my first day at school as being just awful. After the initial shock I then enjoyed being at school. At that time we lived near Amble Junction. I also remember prior to starting school I slipped on the ice and broke my right femur. Apart from some mishaps I enjoyed that time of my life.
My name is Carol Kemp nee Joyce and I was born along the links in a cottage there back in 1944. My mother was called Edna Pile and her mother was Mamie Pile, my Gran, who lived in Amble all her life. I have very fond memories of visiting in the summer and we always visited with her friend Ada Wiggett who lived next to Percy (...Read full memory)
MY TWO DAUGHTERS ELSIE AND EUNICE AND THEIR FRIEND MARY YOUNG ARE THE CHILDREN ON THIS PHOTOGRAPH.  THIS PHOTO WAS TAKEN ON THE 'LITTLE SHORE' AND THEY WERE TRYING TO KEEP THE INCOMING TIDE OUT OF THEIR SANDCASTLE.  THEY ALL HAVE GROWN UP FAMILIES OF THEIR OWN NOW.  42 YEARS HAVE PASSED SINCE THAT DAY.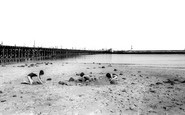 My grandma Annie Moody lived in Amble as a child. She was born in 1897 but I think they lived somewhere else first, but she and her parents are on the 1901 cencus as living in Amble. My mother (her daughter) Mary Maddison nee Stewart has many happy memories of visiting her granny and grandad there too. Before 1966 when I and my family (...Read full memory)
Florence Mary Rutherford was born in Amble, married William Cowell, who was also born in Amble and they lived there until 1913 when they emigrated to Australia