We have no old photos of Ashton available currently. You might like browse old photos of these nearby places.
Historic Maps of Ashton and the local area.

My mum and dad ran the George and Dragon. It was my dad's first pub after leaving the RAF. I'm almost certain we were the last ones in there before it was demolished. I have very vague memories of the place - more about the place and entrance bit more than anything I can really call a vivid (...Read full memory)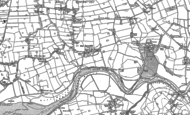 My 5 x great uncle was a policemen abt 1906. He died chasing robbers who were throwing stones. He was 28 yrs old & left a pregnant wife who gave birth in the same yr. We have a few photos of him. He was born in Staffordshire & his widow must have had her family follow him there. There is also a newspaper clipping of him as he rescued a runaway horse.