Historic Maps of Bingley and the local area.

My gandfather was Alfred Patchett and he was a successful butcher in the making when he opened his butchers shop in Chapel Street, Bingley. I believe it is the road which runs off to the right in this photograph. I have a photo of him standing proudly in the doorway of the shop,only a young man in his early 30s. (...Read full memory)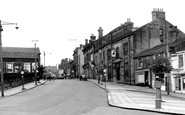 I was so excited to come here - the start of the rest of my life. The night time views over the valley - so many lights - were thrilling. I couldn't wait to get out and walk all round the area, the air was so clear I grew an inch! For the first time I had central heating in my room. So many memories, too many to tell, of new friends and good times and heartaches too! Good old College.