Historic Maps of Bingley and the local area.

I was so excited to come here - the start of the rest of my life. The night time views over the valley - so many lights - were thrilling. I couldn't wait to get out and walk all round the area, the air was so clear I grew an inch! For the first time I had central heating in my room. So many memories, too many to tell, of new friends and good times and heartaches too! Good old College.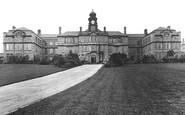 The boats in the photo belonged to my great aunt. As a young boy my job (unpaid) was to ferry the boats across the river and pick up any stray boats. I was very small, aged probably 6, could not swim, but there was no health and safety then!! My great-aunt was a very strict Victorian lady. Her motto was "Work comes first". Happy days?