Bishop's Stortford, Hertfordshire
Historic Maps of Bishop's Stortford and the local area.

I remember staying here in 1959/1960 where my friend Mig had moved to. I lost touch and would love to know about her. We had a wonderful holiday together in Perranporth Cornwall. We actually got lost one night and were so relieved when we found our way back to the Golf Club where we were staying in a log (...Read full memory)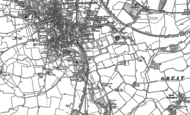 I remember this building being Handscombes Ironmongers. And one end of it being a pram shop in the early 80's I think . I bought my parents their 25th wedding anniversary present in Handscombes... a dinner service in a Poppy design. Full service with tureens etc only cost £24.99! This was in 1978. They held their party at the Bell in Stanstead.