Borehamwood, Hertfordshire
Historic Maps of Borehamwood and the local area.

I moved to Boreham Wood when I was six weeks old in 1952 and lived there until 1977, spending my whole childhood there and my teens and early 20s. My parents moved from there in 1984 along with other family members so I have not been back there since. My memories of Leeming Road shops (...Read full memory)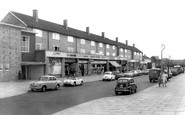 I lived in Caishowe Road in 1948.My Grandparentslived in Edulf road and I used to visit them every school day on my way home. The 'village' as it was known then had a Cafe called Hanson s..Does anyone remember?They had the best icecream. It was a family run business. My father used to work at Keystones near the shop. We lived in Borehamwood for 19 years.