Historic Maps of Box and the local area.

In the early 1960 I attended a girls school here....one of the most pleasant times of my childhood. Of course, the surround areas were enchanting and quite amazing for a young person from the Bahama Islands. I plan to visit again in the next year or two. The gardens were struggling while I was there, but the topiaries were magnificent.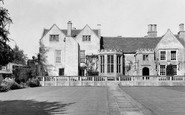 Do you remember the tall girl's name, would it be Jennifer? I used to stay with my gran in the school holidays. At the time we lived in Birmingham. My sister and I used to cycle for miles and would often spend all day in Box Woods and make a mess of the farmers field of cut hay by making dens, poor farmer.