Historic Maps of Cark and the local area.

My maternal grandma, Mrs Rowe, lived at school house as caretaker for about 40 years until she died in 1978. My mum Edith was brought up here, as were her sisters, Irene, Dorothy and Marjorie and her brother Alfred better known as" Sonny". We all, i.e. aunties, uncles and cousins, used to stop at Nanna Rowes for a few weeks in (...Read full memory)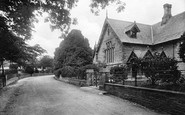 The house in this photograph is Lawn Cottage, Cark-In-Cartmel. It was the home to my great-great-grandfather Alfred Jackson Caton and his wife Mary. Alfred Jackson died in 1910, and it would seem from the census that by 1911 his wife and daughters were self sufficient, running a laundry and dress making service from the house.