Historic Maps of Cark and the local area.

The house in this photograph is Lawn Cottage, Cark-In-Cartmel. It was the home to my great-great-grandfather Alfred Jackson Caton and his wife Mary. Alfred Jackson died in 1910, and it would seem from the census that by 1911 his wife and daughters were self sufficient, running a laundry and dress making service from the house.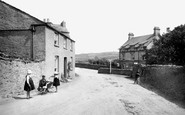 My wife used to live in the house on the right, Number 5 Mill Close. When we were courting I would walk her home from our nights out and we use to sit on the bridge wall. This is where I had my first kiss from her, she was 17 and I was 19 years old. We have been married now for 46 years and have two children and 4 grandchildren. This is where it all started.