Historic Maps of Cark and the local area.

I attended Holker School between 1959 and 1963 and can recall the Rowes quite clearly. I made a habit of knocking at their door most morning play times when we were able to buy small packets of peanuts for two old pence from them. They were a friendly couple. I can also remember Mr Rowe performing his ventriloquist act at (...Read full memory)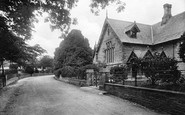 The house in this photograph is Lawn Cottage, Cark-In-Cartmel. It was the home to my great-great-grandfather Alfred Jackson Caton and his wife Mary. Alfred Jackson died in 1910, and it would seem from the census that by 1911 his wife and daughters were self sufficient, running a laundry and dress making service from the house.