Chelsfield Memories
Read and share memories of Chelsfield
I lived in Foxbury Drive and I remember the wonderful freedom I had with my elder brother. Our garden backed onto the rec.and we spent all day either playing tennis 2/6d for the whole day or exploring the woods. My parents never had a second thought letting us be out all day as it seemed such a safe environment! I also remember the (...Read full memory)
The picture of Windsor Drive is so evocative for me. I spent the first 5 years of my life living with my parents in my grandmother's council house in Sandpit Road on the Downham Estate at the bottom of Bromley Hill. We moved to World's End Lane in 1953. My grandfather, a railwayman who lived (...Read full memory)
I think the shop next to Bon Marche was Hoddinots (butchers) and the last 'old' shop was Stanley Marks (bakers) and then a record/electrical shop run by Don Skinner - then a betting shop? In 1966 I lived for a while in the flat above Centra supermarket, one of the 'new' shops. Other new shops I remember: Hayletts, Harlins (hardware) and a hairdressers on the end. Happy days.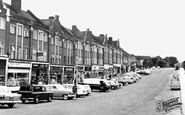 I think the photo must have been taken in 1961 or 1962, as the "new" or "top" shops are there; the original parade from the 1930s are taller than the later ones which can be seen at the top of the hill. From left to right, and as far as I can remember were: Out of shot to the left Walker's grocers, to which I (...Read full memory)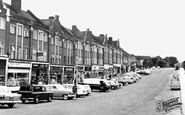 I am almost certain that this photo shows my great-grandfather walking from Chelsfield village to our house. He did this every week with a sack of vegetables over his shoulder. He would never get in a car, and walked everywhere. He lived in the village and had 2 allotments behind the recreation ground where he grew everything from potatoes to soft fruits. You name it, he grew it. He died in 1953.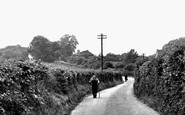 I was born in Farnborough Hospital in May 1949, and lived at No. 1, Crown Villas, Crown Road (later 18, Crown Road) from then until 1968. This house was one of the original set built when the roads were built early in the 20th Century. I later lived at 11, Crown Road (built in the 1960s next to The Bungalow) (...Read full memory)
I was born in May 1945, in Green Street Green - Highfield Avenue, and moved to Woodside, Chelsfield in 1949. I lived there until I married in 1966, so I have clear memories of Crown Road. Two roads led off Warren Road up to Crown Road, they were Edith Road and Albert Road. I have a clear memory of the house on the corner of (...Read full memory)
I was born in Chelsfield in March 1945 at The Bunglaow, Crown Rd/Warren Rd. I was born on the day that the last doodle bug bomb was sent over by the Germans and it dropped not far from where I was born. I have been told that the midwife attending my birth grabbed me and dived under the bed and left my poor mother (...Read full memory)