Historic Maps of Chichester and the local area.

Does anyone exactly remember a new bell or bells being winched in by a very large crane into the tower. My memory as an 9 year old standing outside Morants watching with Dad ( Vicar of Oving then) and younger brother, was it early 1966?.We knew Sam Vigar, who was the cathedral Head of Maintanance, he was running (...Read full memory)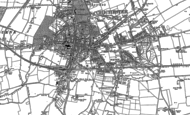 In 1952-1956 I trained at RWSH & obtained SRN & then went to Cambridge for midwifery training. After that emigrated to Canada worked there & also USA. Worked as a nurse in San Francisco & New York. I often think of the days & nights spent working at Royal West Sussex Hospital. I would like to get in touch with anyone who remembers me. Sheila McConnell.