Historic Maps of Cippenham and the local area.

This was my senior school and I have to say I loved it. So many memories, too many to mention. Met my husband to be there in the 4th year as we used to call it, now year 11. I remember Mr and Mrs Duggan, Mr Heaton, Mr Good senior and Junior, Mr Borek, Mrs Bates, Miss Dyer, Mr Butcher, Mr Parsons, Miss (...Read full memory)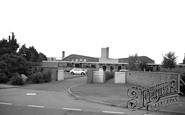 I used to have a hair cut at the bowling alley, when I could afford it. If not it was Smiths on bath Road.# Went to Westgate school. Mr. Rackstaw? Mr. Good?? Terry Davies? Was a milk lad for Ron Botley. Neville & Griffin dairy Cippenham Juniors. Mrs. Brooks? 1961 Left Cippenham 1970 Lived in Moreton Way, Have wonderful memories of all ofthe area.