Historic Maps of Cippenham and the local area.

I lived my early years in Millstream Lane in the 1960s up to 1974. It was a wonderful place to grow up. Just off the NW corner of the Green on Greg's farm there was a barn with a number of rusting old vehicles and farm machinery scattered around. Besides threshers and early tractors, there were some WW2 military (...Read full memory)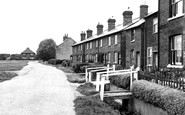 Westgate opened in 1958 for my last school year. I competed in the discus and cross country, and represented the school in rugby and a decathlon. Great school, followed by Slough College. Later, I emigrated and worked for a company in Australia, then the government. My boss talked me into studying, which later led to university where I met my wife.