We have no old photos of Clench Common available currently. You might like browse old photos of these nearby places.
Historic Maps of Clench Common and the local area.

My grandfather farmed Cullys Farm in the early decades of the last century and I believe so did his father and grandfather. My grandfather had 7 children and took in my great-uncle's children when their father Willam Fishlock from Avebury was killed in the First World War. I have somewhere photos of the family at Cullys which I will dig out, if anyone wants to see them.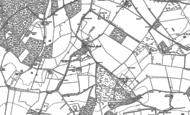 I was born in Marlborough and my grandmother ran a small grocery store at Clench Common. She was married to John Marsh until he died many years before I was born. I believe he was a war hero in the First World War. Any information on the Marsh family would be wonderful. My mother was Lillie F. W. Marsh.