Historic Maps of Dartford and the local area.

I was born in 1943 and lived in Wilmington. I initially went to an infant school in Oakfield Lane, however, my mother was told by the Sisters of Charity that they should pay for me to go to a Catholic school otherwise she wasn't fulfilling her beliefs in the Catholic faith! It was a struggle but I was duly (...Read full memory)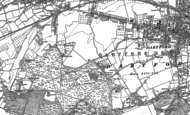 I grew up in Moreland Avenue, ( no 5 ) in the 1950s, 60s and 70s. (I was born there in 1948) and have some wonderful memories of that period. I attended West Hill primary and junior schools and then Dartford Secondary Modern school. When I left school I did an apprenticeship and continued working at Robins Motor & General Engineers along Dartford Road. Many happy memories. Cyril Boxer.