Personalised Calendars
Now with dedication!

Create a unique nostalgic Calendar and remember the best of times, the whole year round. Choose a different Frith photo for each month, and add personal messages to each month. Two sizes available and a choice of B&W or Sepia finishes.
With a choice of two sizes and each available with the photos reproduced in either B&W or sepia, these calendars are the epitome of personalisation, as the 12 photos you choose can be from anywhere and you can also add your own optional and unique caption to each one. The photographs's standard caption is always printed against each photo. You can also choose the start year and month - you can't get more personal than that!
Let us guide you through gathering and arranging 12 nostalgic photos into a truly personal gift or keepsake.
Key Features:
Two designs available: A3 297 x 420mm (12" x 16.5") or an Appointment format 149 x 429mm (6" x 16.5").
Your photos can be printed in Sepia tone, or Black and White (see examples below).
Choose 12 photographs from this website.
Add your own optional captions for each photograph (we always include the photo's title).
Add a personal dedication message to the front cover to make it an even more special gift.
Start in any month and year.
Choose which month's photo you would like on the cover.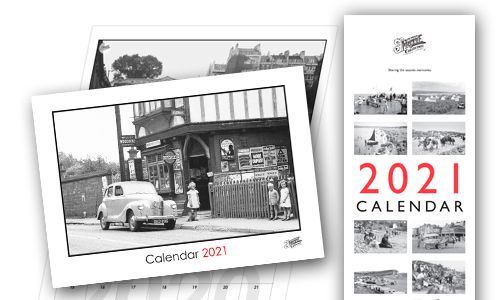 Prices from £14 to £16
Add a personal Dedication Message to the front cover of your calendar to make it an even more special gift. Just enter your dedication message in the next step (along with any other options) and choose the 12 photos you think your recipient will most appreciate to make their day (and year!) with a very personal calendar.
Start your Calendar >>
Buying for a Charity, or as Business Gifts?
We offer bulk discounts for the following quantities:
Charity Calendars - ideal for fundraising with discounts for 20 or more copies of the same calendar with your charity name in the design.
Business Gift Calendars - 50 to 500 copies More Information
More Details
Two Sizes to choose from
Choose a slim Appointment Calendar, or a larger A3 Calendar. Both sizes are printed on the same heavy-weight silk art paper and feature the beautiful print-quality for which Francis Frith photographs are renowned. The A3 calendar opens up to the size shown from A4.
A3 Calendar (Opens to A3 from A4)
Size:

297 × 420mm (12 x 16.5")

Price:

£14

Hanger:

Punched Hole
Cover
Page
Appointment Calendar
Size:

148 × 420mm (6 x 16.5")

Price:

£16

Hanger:

Wire-bound, wire hanger.
Cover
Page
Page Detail
Black & White or Sepia
The photographs in both sizes of calendar are available in either Black and White or with a Sepia tint. The sepia tint will give the photos a more aged look whilst black and white is more popular and fits with any colour scheme.
Black & White
Sepia
Add a Dedication Message
New!
You can now add your own personal dedication message to the cover of your calendar! Just type it in when you create your calendar. This is just one of the many other personalisations we offer. You can also select the start month/year, choose which photo appears on the cover and add your own captions against each photo.
You might also like:
Take a look at our other nostalgic photo gifts and keepsakes.