Historic Maps of Edmonton and the local area.

I was born at 59 Tynemouth Road, Tottenham in 1949, does anyone remember us? My brother's name is Bruce Abbott and I had a sister called Pat,who sadly died in 1965. Upstairs to us was Robert Parmer and his brother, I think his name was Ian, who my brother went around with, I played with Jillian Bignall and Janet Delasale, (...Read full memory)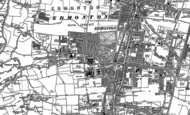 My grand parents lived in Raynham Road.There name was Roker. My grandfather boxed at boxing shows behind the Alcaza cinema.I used to go to the chip shop for a penny worth of chips. Gorsons store was opposite. I worked at Klingers from 1950 in the pre boarders (they pressed the nylons) I to still remember my mothers Co-op number.