Historic Maps of Great Bookham and the local area.

I am pretty sure this must be along the Dorking Road looking up towards the Downs. It looks like it is on the left going up towards Polesdon Lacey? Can someone confirm I am right here? The buildings and stables are where the Carters eventually set up their stables. Not sure (...Read full memory)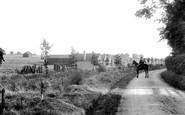 Interesting to read the memory from Sue Rainer- Copland on Petherbridges greengrocers - my Mum worked there for many years. I can vividly remember long queues outside the door on many, many occasions. Above Camerons and the greengrocers was a ladies hairdressers called Geralds. Does anyone remember Walker Smiths - grocers on the opposite side of the road?