Halifax Memories
Read and share memories of Halifax
Joyce Sutcliffe lived in Halifax and worked at Simpsons around 1941. She was called up to the Royal Army Signals in 1942 aged 21. Also Robert Bell worked there and went into the Navy. Other people were Frank Southwell, Owen Southwell, Grace Priestly,Ronniie Gethin. If you know of these people I would love to hear from you. Thank you.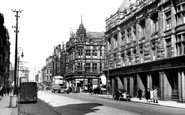 In the late 1950s I used to live in the Drying Houses Old Lane Halifax with mam and dad and sister Sheila. I went to saint Thomas Moore's School and at the beginning of each new term we had to stand up and call out our address I hated it as everyone would snigger at the name Drying Houses. The Drying Houses have been demolished years (...Read full memory)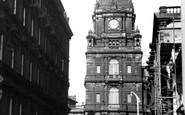 As a child we used to return in the car down the hill towards North Bridge and the game was to be the first to spot Wainhouse Tower amongst all the other mill chimneys there were at that time (late 50s/early sixties). A bit like spotting Blackpool Tower when you went there. The other things we used to say (...Read full memory)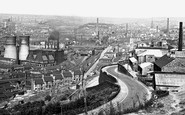 I started as an Apprentice at Pohlmann & Son in 1959 and remember the building of the Council Offices next to the Princess Street Shop. The clock in the scene shows 9.00am. We started work at 9.00am. The van with the ladders on it was the Aerial riggers van which I believe was the one I travelled in as the Aerial (...Read full memory)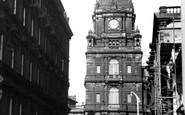 The crocuses around Savile park Manor Heath and on the way to Scircoat Green were, and still are the first glorious sign of Spring in Halifax. The roundabouts and parks have always been especially lovely and well looked after. I was born in Halifax in 1957 and lived at Norton Towers first, then Manor (...Read full memory)
Being born and raised in Halifax I remember how grim it was to live there. However, one of the places I enjoyed and still enjoy when I re-visit, is the covered market. The bustle, the wonderful smells, the variety...I have not seen anywhere else quite like it. And the fish teacakes from Illingworth...mmmmmm. The town (...Read full memory)
I was born on Gibb lane near Mount Tabor, there was a water pump outside the houses where my mother used to have to go outside for water at one time My uncle Norman Jones was the curator at Bankfield Museum for a year or two. He had 2 sons ,Stuart and Raymond and a daughter Barbara.
I remember going to Palins dance hall, I remember going to the cinema, but I do not remember the name of the cinema, it was near Bank Top, they used to play Telstar, as I said, my memories or skeche,