Browse our selection of old black and white photographs of Halifax, along with a selection of historic maps, local history books, and fascinating memories that our visitors have contributed. All our photos and maps are available to buy in a wide range of product formats, including framed prints, canvas prints, tea towels, mugs, jigsaws, tableware, cushion covers and as one photo in a customised calendar. Most of our local history books can have a personalised inscription added for FREE to the title page.
Historic Maps of Halifax and the local area.

Joyce Sutcliffe lived in Halifax and worked at Simpsons around 1941. She was called up to the Royal Army Signals in 1942 aged 21. Also Robert Bell worked there and went into the Navy. Other people were Frank Southwell, Owen Southwell, Grace Priestly,Ronniie Gethin. If you know of these people I would love to hear from you. Thank you.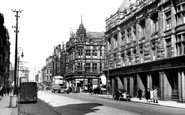 In the late 1950s I used to live in the Drying Houses Old Lane Halifax with mam and dad and sister Sheila. I went to saint Thomas Moore's School and at the beginning of each new term we had to stand up and call out our address I hated it as everyone would snigger at the name Drying Houses. The Drying Houses have been demolished (...Read full memory)