We have no old photos of Hanwell available currently. You might like browse old photos of these nearby places.
Historic Maps of Hanwell and the local area.

To anyone living in and around Hanwell, Cuckoo School was the edifice which overlooked many of our homes. The school where Charlie Chaplain was sent as a boy had a gothic and slightly spooky appearance. Many a child would be told that if you looked up at the high windows you would see the (...Read full memory)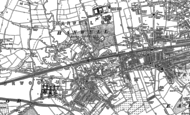 I remember David who used to live in St Marks Road. We went cycling together in the late fifties. Guildford, Box Hill were all destinations. The greatest ride we undertook was Worthing. When we arrived around 1230 we realised we had to cycle back. He had a Raleigh with a black frame and red mudguards. I had a Humber Beeston Tourist. I wonder where David is now?