Sorry, we have no old photos of Hanwell available currently.
You might like browse old photos of these nearby places.
Historic Maps of Hanwell and the local area.

Ancestors are listed on RG12/1030 Page 2, of the 1891 census, but I can't find any trace of Felix Road West, apart from just Felix Road. The area immediately west of Felix Road is a cemetery which predates Felix Road. There is a very small area, a new area currently called Squirrel Mews at the (...Read full memory)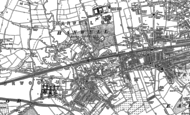 I remember this on the way to the Bunny Park. Never went in there much. I remember one after noon there was a storm and I waited for it to pass in the shelter with my mum. It made a big impression on me, the sound of the rain and the low light. There were no jets there in the fifties. Opposite there were a couple of shops, one being a sweet shop. Does anyone remember it?