Hetton-Le-Hole, Tyne and Wear
Sorry, we have no old photos of Hetton-Le-Hole available currently.
You might like browse old photos of these nearby places.
Historic Maps of Hetton-Le-Hole and the local area.

My family all lived here in the 1911 Census. Alfred, Sarah and 11 children. When Alfred was killed down Eppleton Pit aged just 41, Sarah was left to bring up all the children on her own. They moved to 13 Summerson Street later which still stands. Has anyone any photos of 33 Downs Lane, or could tell me when it was demolished?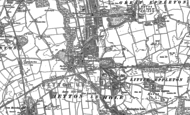 My Gran +Grandad Lived at Hetton Mother was born at Fairy Street Kathleen(Katy) Kemp,I was born at Shaws Row,Gran was Jane Grandad Tommy,There was no flush toilet and i was scared to use the ash middens,i remember helping my dad to take the glass jars to the end of the street to sell them 1p for large +1/2p for (...Read full memory)