Historic Maps of Hutton Rudby and the local area.

My Dad, Ray Hall, was born in Hutton. His dad John Hall was a tailor and his cousin May Hall ran the post office. I would come to the village as a child and often played with Basil, who lived with May. One winter I remember sledging down a long hill and eventually sliding straight across a frozen ford, I (...Read full memory)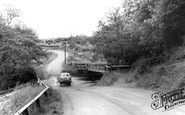 I am trying to see if anyone has information about a relative. I believe his name was Joseph Harris, and he gave his home address as Hutton Rudby, Skutterskelfe, during the early 1920s. He was in domstic service (a Butler?) at that time. As I do not have a date, or place, of birth - other channels of reserch are limited!