Historic Maps of Ightham and the local area.

My nan (Amy) and granddad (Fred) ran the post office in Cobtree Cottage Ightham. As a young girl I started Ightham primary school in 1964 before changing to Borough Green primary school in the last 2 years. My uncle's name is on the memorial stone as John Morley though his full name was Fredrick John (...Read full memory)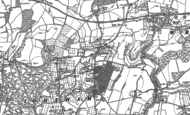 My Booth family were glaziers etc in Ightham from the early 1700s until mid 1800s. Would be interested if anyone has any photos, memorabilia of them for posting on this site. I am aware that the Mote Farm House has an inscription "Joseph Booth 1806" in an attic window - any stories of past occupants of this grade II listed building of interest to me and the NT.