Browse our selection of old black and white photographs of Kinghorn, along with a selection of historic maps, local history books, and fascinating memories that our visitors have contributed. All our photos and maps are available to buy in a wide range of product formats, including framed prints, canvas prints, tea towels, mugs, jigsaws, tableware, cushion covers and as one photo in a customised calendar. Most of our local history books can have a personalised inscription added for FREE to the title page.
Historic Maps of Kinghorn and the local area.
The house on Harbour Road was where I lived with my parents and sister for approx two years. We lived in one room in the gable end, then we were moved to the other end which was three rooms in a row. We lived there till 1949 then moved to a new council flat. My coin collection was kept behind the wallpaper next (...Read full memory)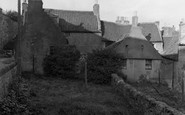 I lived at 54 High Street, Kinghorn, Fife, Scoland, and went to school in Kinghorn and Burntisland. I remember the fish trains at night going to Burtisland and beyond and clanking up the hill as they came out of Kinghorn station. I also remember that it was double summer time.