Historic Maps of Leyburn and the local area.
My gggggrandfather,lived At Hammer Gate in 1841. His son James moved with his family to Grove Square.1851 James's brother William lived at 24 Market place in 1861 The family of James Autons then moved to 74 Commercial Square1861 Only my gggg Uncle William stayed in Leyburn .He was a Solicitors Clerk. He and his wife.ran (...Read full memory)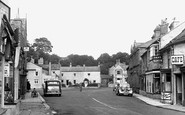 The jaguar on the right belonged to Norman Barber and was parked outside his shop in Leyburn. At this time my husband, Cedric Barber, was probably in class at Leyburn County Primary School (now an old peoples' home). Cedric's second cousin, Janet Green, lives a short distance from the scene of this photograph.