Historic Maps of New Haw and environs, hand-drawn by Ordnance Survey and by renowned Victorian cartographer Samuel Lewis.
More maps coming soon!
We are busy behind the scenes preparing more 1:50,000 mapping from other years which will appear here.
Keep checking regularly or register with us to keep up to date on this and other exciting developments for 2018!

I wanted to add my own memories of growing up in New Haw from 1965 until moving again in 1973. The family moved from Richmond (then in Middlesex) to 187 New Haw Road, a detached 3-bedroom house with 1/3 acre of overgrown orchard and backing onto Bentley's Farm. Dad (Peter) worked in London and commuted (...Read full memory)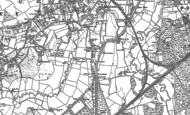 I lived at no. 22 Brookfield road with my sister, Sue and My brother Neil. I married in 1971 and now live in a village near Reading with my husband Colin. Sue married Glyn Lake who lived in parkside and they emigrated to Canada after they got married, and later moved to the States. Neil moved to South Africa with his wife. Unfortunately Sue, Neil and Glyn have all passed away.