Historic Maps of Nork and the local area.

I grew up in the Children's Home, Beechholme that was only a few yards from Nork, where children from the home went to spend their pocket money. I lived at Beechholme from 1956 to 1962. I spent much of my time in the home wandering over the Downs studying insects. Much of the land that we wandered over has deteriorated now into (...Read full memory)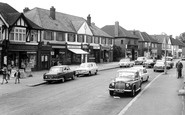 My Gran lived in the flat above the shop in the photo, next to the garage. Her front door was down the side, and her windows (both open) looked out over shops. The bay window was her living room and her kitchen had the dual aspect windows on the corner. We were friends with the Hookhams who ran the Wavy Line store to the left of the garage.