About Francis Frith and our Company
---
Save the Archive!
Francis Frith's legacy to us is an archive without equal, a remarkable and unique photographic record of Britain – and yet this wonderful treasure trove of historical imagery was almost lost forever...
In the late 1960s most other postcard publishers had progressed to using high quality colour photographs, but Frithwas slow to change and in 1969 when Frederick and Trevor Sergeant came to retire the decision was made to close down the company. By that time, the Frith archive contained photographs of around 8,000 British cities, towns and villages and the company had published over 300,000 different images of Britain.
The Frith images bring the past to life like a photographic time machine, yet this national treasure was very nearly lost to us. One of Britain's first historians of photography, Bill Jay (1940-2009), then Director of Photography at the Institute of Contemporary Art in London, was alerted to the imminent closure of the company and informed that the Frith premises was soon to be demolished, and everything in it would be destroyed.
Bill Jay immediately recognised the importance of the Frith archive, both in the history of photography and as a record of social change, and was determined to save this historic collection from destruction. He began a high profile campaign to find a purchaser for it and enlisted the help of a London advertising agency.
"The Frith archive is unique and priceless ... the most extensive, important and well-preserved collection of early British documentary photography to have survived intact."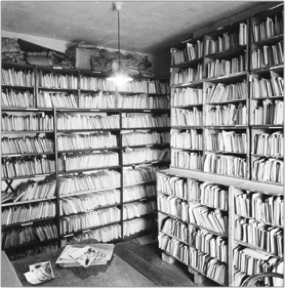 Time to rescue this precious, irreplaceable photographic collection was running out fast, but at last Bill Jay's efforts were rewarded at the eleventh hour when Rothmans, the cigarette company, agreed to buy and save the archive. Rothmans moved the archive – hundreds of thousands of precious glass negatives and prints, ledgers and company records - and rescued it for the nation. They were only just in time, as a week later the bulldozers arrived and the Frith premises was flattened.
Five years after Bill Jay persuaded Rothmans to buy and save the Frith photographic archive, a Rothmans executive, John Buck, persuaded the company to allow him to create a new business based on the Frith images. John Buck realised that every photograph in the archive was potentially fascinating to people who had not just been on holiday in that location, but who also had a personal connection to the scene depicted in the photograph – it might show where they had been born, or grew up, or been to school, or been married. In other words, the Frith archive documented hundreds of thousands of places that have helped create and shape our lives, and each photograph potentially represented an invaluable record of someone's life. John saw that there was a huge untapped commercial market for the hundreds of thousands of photographs in the Frith archive that went far beyond what F Frith & Co had done with them, and he began to develop ideas to make the images available to the public in new and innovative ways.
In August 1977, following a change of policy at Rothmans, John Buck bought the Frith archive and embryonic business from the company, and started running it as his own independent business under the trading name of 'The Francis Frith Collection'.
Immensely successful in Francis Frith's own era in the 19th century, in its new incarnation as 'The Francis Frith Collection' the photographic archive has entered a new phase of popularity in the modern 'internet age'. Digital technology has made the vast Frith archive of historical photographs available to everyone to see, thanks to the Frith website www.francisfrith.com. The photographs are more accessible today than they have ever been since Francis Frith founded his business back in the 1860s, and can now be viewed by website visitors all over the world.
Thanks to Bill Jay's determination to save the archive, the Frith photographs are now bringing pleasure to millions of people, offering each of us a powerful and nostalgic link with our own past as well as that of our forebears.