Penrhiwceiber, Mid Glamorgan
Historic Maps of Penrhiwceiber and the local area.

I lived at no 50 just 2 doors down from st Winifred' s church from 1944 to 1964. My mother was Stella Jeffery and my grandparents Mona and Charles (Jeff) Jeffery who was a dentist and had his surgery at No 50. Does anyone remember coming to see him? My name is Sue but I was generally known as Susan Jeffery. I too (...Read full memory)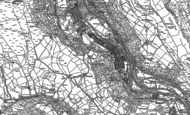 My dad was born in Harcourt Terrace in Penrhiwceiber in 1910, his name was Wyndham Stephen Jones, he started in the mines then joined the Army. My grandad was also born there, as the rest of my Welsh family whom were coal miners. My grandad was Daniel Stephens Jones, he married Elizabeth Williams. I went there on holiday as a child and remember the railway line across the road and the Moors.