Historic Maps of Stonehenge and the local area.

This is a faked photo! Stone 56 is upright only because it has been drawn in on the negative - the clue is that Stones 21, 22 and their lintel 121 had collapsed before stone 56 was straightened in 1901. (If you are not a Stonehenge geek that probably was too much information!) The original photograph was also used as a (...Read full memory)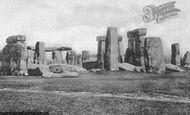 This would be around the first time I visited Stonehenge - I have a clear memory of sitting on the stone in the foreground. My father was a sergeant major (REME) at the local army base, Aldershot?, in the early to mid sixties. I rather rebelled against my military background, & my next few visits to Stonehenge were for the Free Festival at the Summer Solstice, from the late '70's on.