Historic Maps of Strood Green and the local area.

My family lived at 6 Tynedale Road and my two sisters and I were all born there. We attended Brockham School when Mr. Rogers was the Headmaster. Mr. & Mrs. Foster owned the Sweetshop & Newsagents and I did a paper round and helped out in the shop. I well remember Mr. & Mrs. Marlow who owned the Shop (...Read full memory)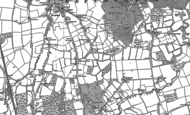 Remember when Mr Booth had the local papershop, he was a cracking bloke. Then later on Les Copley took over. There was Dick and Win Smith who had the spotted cow, always remember a no cuddling policy in there. My dad, John Knightley, worked behind the bar and they had some famous people come in, it was a place to live.