Tonbridge Memories
Read and share memories of Tonbridge
yes remember the bull demolished i and built Macfisheries supermarket in its place left my job with my mate Dave Palmer, we were both employed by Billy Horsborough who was the manager for better buying supermarket and the green grocer next door opposite fortes cafe and what used to be Burtons the tailors to go and work there (...Read full memory)
My parents moved to the village of Golden Green in about 1956, , to run the village shop and post office. At first I was sent to Sussex Road school, but soon moved me as one of the first intake to the New Hugh Christie, a brand new school, head teacher was Mr Howard, science teacher was Mr Taylor, Mr (...Read full memory)
I remember the Domestic Oil Stores in Barden Road. In the 1940's I lived in Norfolk Road. They sold all manner of things and there were goods outside, brooms etc. I do remember that two sisters ran the shop and used to see them sweeping the pavement outside the shop. I loved the smell of oil whenever I went inside. Unfortunately that is all I can recall at present.
we lived there for a while. lady goldsmid used to go into gunners to buy her haberdashery..was it norman gunner the son or the old man? i forget. anybody remember the bull hotel? or the angel football ground? thank you. j.....
My name then was Peter Pronger my two brothers used to work at Nightingale Farm it had a lot of pigs in those days, I remember Mr Podmore he was attacked by a Boar and was badly injured .Also Mr Young ( Bill Young ) My brothers were George and Roy Pronger they also lived at Honnington farm down Vauxhall lane It also (...Read full memory)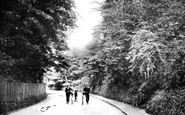 Hi, can anyone help? My mum was born at 1 Crystalate Cottages, Golden Green, Hadlow, Kent. Do they still exist or were they knocked down?
I was about 13 or 14 and was deeply in love with the daughter of the pub. They had a table tennis room behind the pub, very narrow and small. I was terrible at tennis so I used to keep score on a small notepad. One time my pencil broke so I went to the small bar to get a sheath knife to sharpen it with, on my way back, (...Read full memory)