Tottenham, Greater London
Historic Maps of Tottenham and the local area.

My name is Arthur and i was born in North Middlesex Hospital in july 1949 and i lived at 80 Sirdar Road.My mum and dad Arhur and Doris Brown my two sisters Sylvia and Jeanette and myself lived with my grandparents David Edward Brown and Elizabeth Lisa Brown Who had 14 children 7 boys and 7 girls so i had plenty of (...Read full memory)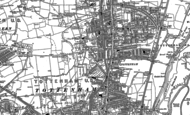 I would love to hear from folk who like me went to Bruce Grove School. I went there from 1936 until 1944 when I left school, then danced at the Royal Tottenham. I lived in St Margaret's Road. I remember Ron West and his brother Albert West,m who lived just off West Green Road, and the rest of the gang, I would love to hear how they all got on. Best wishes to all folk from Tottenham. June.