Browse our selection of old black and white photographs of Barnet, along with a selection of historic maps, local history books, and fascinating memories that our visitors have contributed. All our photos and maps are available to buy in a wide range of product formats, including framed prints, canvas prints, tea towels, mugs, jigsaws, tableware, cushion covers and as one photo in a customised calendar. Most of our local history books can have a personalised inscription added for FREE to the title page.
Historic Maps of Barnet and the local area.

I was a pupil at this school from 1951-1958. The main building built in 1932, was extended at the west end (obscured in the photo by the trees) in 1954 and at the east end (asymmetrically!) in 1956. This photo shows no extension at the east end so this photo must be pre-1955 (and I think pre 1954). Futher (...Read full memory)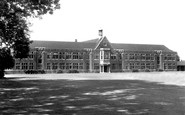 hi my name is lynne cochrane, which is my maiden name. we lived as a family with cousins in the old highlands house, overlooking highlands gardens, which was owned bu my grandpa george percival howe, the house was demolished in 1972, which was very sad for all us kids, i was 13 at the time. so thank you to this site for all the wonderful pictures of barnet and the highlands gardens.