Historic Maps of Bridlington and the local area.

i used to go to Brid every year in the early 50s - early 60s . One of the highlights was going on the boats in the small boating lake - although we weren't supposed to 'bump' we often did although unintentionally - there was also a small ride-on railway next to it - many happy hours over the years i spent on both (...Read full memory)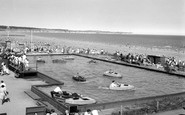 We used to come here every year from me being around 6 month old and I stopped when I was 17. We also used to stay in Mr Josef Jamroz's holiday flats on Bridge St opp Marks and Spencers. The final year I went he wasn't there anymore, he'd sold up and we were told he'd gone back to Poland due to ill health. Often wonder what happened to him and where he went.