Chandler's Ford, Hampshire
Historic Maps of Chandler's Ford and the local area.

Our family had already started plans to emigrate to Canada in 1956. I graduated from North End Secondary Modern after completing my O levels in June. I needed a job for a few months until we left in November. I heard that Dr Burge the chemist was looking for someone to fill in for a while. I applied for the job and (...Read full memory)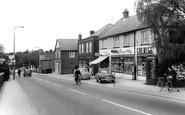 I was born at Velmore Camp in 1954 and lived there with my parents, Fred and Margaret Eldridge, and my sister Lynette. A year later we moved to Derby Road, Eastleigh. Have tried unsuccessfully to find information about Velmore and would appreciate anything anyone might know please.