Browse our selection of old black and white photographs of Clayton West, along with a selection of historic maps, local history books, and fascinating memories that our visitors have contributed. All our photos and maps are available to buy in a wide range of product formats, including framed prints, canvas prints, tea towels, mugs, jigsaws, tableware, cushion covers and as one photo in a customised calendar. Most of our local history books can have a personalised inscription added for FREE to the title page.
Historic Maps of Clayton West and the local area.

I have fond memories of sledging in chapel field. In winter, at the first snow, all the children would congregate to make a great track for our sledges. The speeds we could achieve down the hill!! And not a word of complaint from Alec Buckley the farmer -can you see that happening today? I remember 1963 when it snowed on New Year's Eve and the snow stayed till March! Happy days!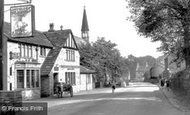 I was evuacuated from London to stay with my aunt in Clayton West in 1944 my uncle was the blacksmith. I had four cousins whose families probably still live in the area. I have good memories of my stay there and intend to visit this year. My name is John Luke